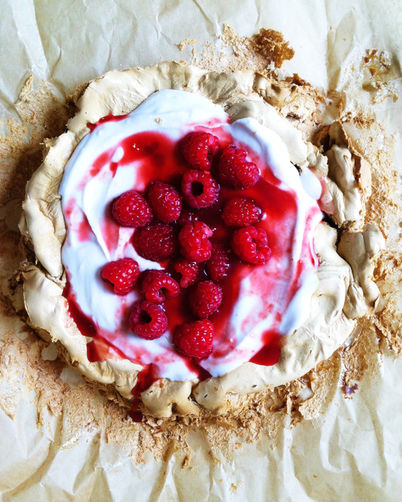 4 

large egg whites

1 

pinch salt

1 

teaspoon white vinegar

1/2

teaspoon vanilla extract

1/2

tablespoon arrowroot starch

1 

cup muscovado sugar
Preheat oven to 250° F and place rack in center of oven. Line a baking sheet with parchment paper and trace a 7-inch circle on the paper.
Combine the vanilla and vinegar together in a small bowl and set aside.
Stir the arrowroot starch into the sugar in another small bowl and set aside.
In a large bowl of a mixer fitted with whisk attachment, whip egg whites and salt on low. Gradually increase speed to medium until the egg white bubbles are very small and uniform, about 2 to 3 minutes.
Increase speed to medium-high and slowly sprinkle in the sugar-arrowroot starch mixture. After a few minutes, slowly pour in the vanilla and vinegar. Increase speed a little and whip until stiff peaks form when the whisk is lifted, about 4 to 5 minutes.
Spread the meringue inside the circle on the parchment paper, making sure the edges of the meringue are slightly higher than the center.
Bake for 1 hour 15 minutes. Check at least once during the cooking time to make sure the meringue is not burning. Once the outside is dry and firm to the touch, turn off the oven, leave the door slightly open, and allow the meringue to cool completely before removing.
Fill the center with whipped cream (see recipe below), a generous drizzle of raspberry sauce, and fresh raspberries.
Whipped Coconut Cream
1 

13.5 oz can full-fat coconut milk

1 

tablespoon cane sugar

1 

teaspoon vanilla extract
Place can of coconut milk in the fridge overnight.
Flip can upside down and open from the bottom. Pour out liquid at the top of the can and scoop out remaining coconut "cream" underneath.
In a cold bowl of an electric mixer, with the whisk attachment, whip the coconut cream. When it starts to become smooth, add the sugar gradually and then the vanilla. Whip until fluffy and store in the fridge.
Serves 6-8